Cancer Survivorship – AI for Well-being
February 23, 2022 @ 09:00

-

February 24, 2022 @ 17:00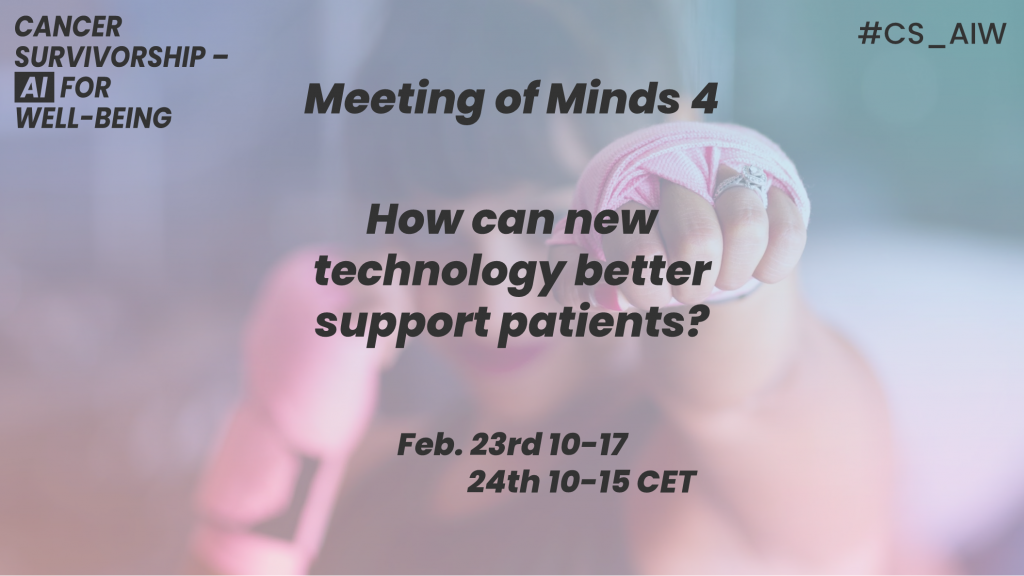 The "Cancer Survivorship – AI for Well-being" (CS_AIW) Cluster will hold its 4th Meeting of Minds on 23rd and 24th February. It will be open to the public, patients and survivors will be able to be part of the audience.
The main aim of this event is to reflect on the question "How can new technologies better support patients?". For that, it primarily will aim at engaging patients to gather important feedback from end-users. As the Cluster target end-users, they will have the unique chance to share their insight and contribute to design a better tool based on their needs as cancer patients and survivors. Moreover, the Cluster members will present their projects with an overview of their work, the scope of their research and how they apply new technology in their solution designs.
Agenda
You can take a look at the agenda here.
Registration
Cancer Survivorship – AI for Well-being Meeting of Minds 4 is an online event open to public. Previous registration is mandatory.
You can register for the event here.
About Cancer Survivorship – AI for Well-being Meeting of Minds 
Technological development has the potential to bring forth innovation in as many fields of human activity as it can find applications to. The healthcare sector, among others, has witnessed outstanding advancement with the inclusion and implementation of new technologies in its practices. For instance, Artificial Intelligence is deployed as an assistive tool for clinicians in diagnosing certain types of cancer.
In this regard, the Cluster member are each working on the design of smart digital tools, aimed at helping cancer patients and survivors safeguard and improve their Quality of Life. All Cluster members have a method in common. Building on shared common ground, the engaging projects are collaborating as a collective unit to ensure that they adopt a highly user-centric approach. By collecting, sharing, and understanding early end-users' feedback and adapting the design to their needs, the Cluster will create well-rounded tools that are truly build around the patient.
During the event, participants will have gain a deeper understanding of the Cluster member work, as project presenters explain the aims, scope and the technology behind their solutions. Furthermore, the projects that are in their piloting phase will share the platform they have created and trialing. Demonstrations on how the platforms work will be given to the audience. Most importantly, patients will be invited to share their opinions on the projects, how they can be relevant from a cancer survivor's perspective and where these tools can be improved, based on their needs and expectations.
Feedback from patients and survivors is one of the main reasons for the Meeting of Minds 4; as user-centric technology designers, the Cluster members believe that incorporating end-users' feedback in their assistive tools is of the outmost importance. To ensure that the tool will be truly put to use by clinicians and be useful to patients and survivors, a user-centric approach is essential. On the other side, by participating at the Meeting of Minds, patients will have a rare opportunity to speak their minds and contribute to enhance tools aimed at improving their Quality of Life.